On 20 March, a new waste sorting plant with Linatech as partner was officially opened by the Danish Minister of Environment Esben Lunde Larsen at the municipal waste company Nomi4s in Holstebro. Behind the plant, which is the result of an exciting and revolutionary development project, is a team of the Danish companies Nordtec-Optomatic A/S and RobotSort ApS, which together with Linatech and Nomi4s have developed and built the unique robotics sorting system using advanced sensors and custom robotics identify and sort certain types of plastic in the waste.
Watch a TV feature from the opening (in Danish): https://www.dr.dk/nyheder/
"The collaboration has been unique and really is a model of the good cooperation that Linatech always seeks to achieve; one where everyone contributes doing what they do best, forming the best solution that creates value for the customer. So in the project team we are all very proud that the plant is now finally realized and that it helps shape the future of waste sorting by also contributing to the goal of the Danish government to double the recycling of household waste by 2022," says Martin Arberg, Director, Linatech
"Linatech has been part of the process all the way from the idea phase, and they have been a valuable partner in the development of the new technology that makes this plant unique. Linatech's solution-oriented approach has helped us achieve our goals, and the project and Nomi4s have become a beacon in the development of waste sorting."
– Hans Bloch, Director, Nomi4s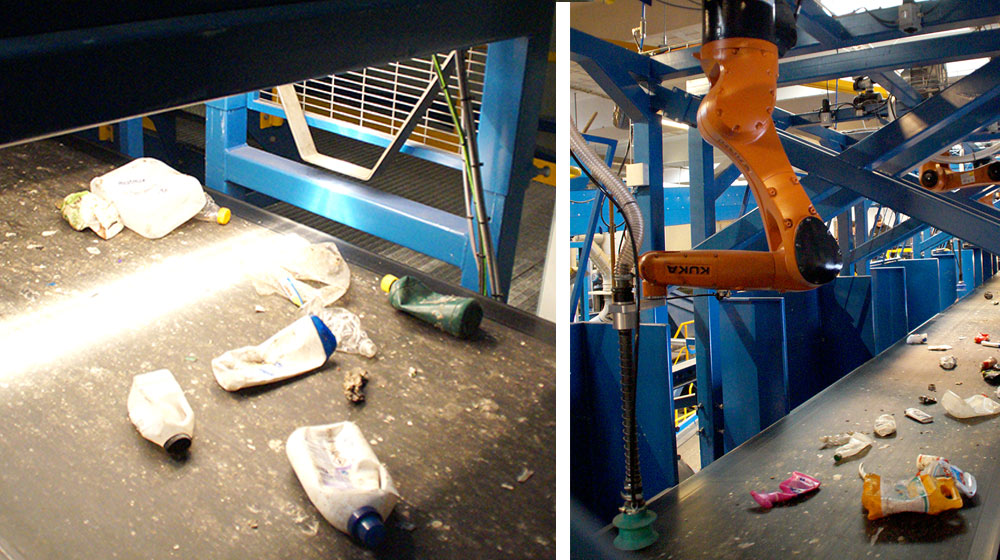 When glass, cans and other metal have been sorted from the waste, the remaining plastic waste passes through a so-called NIR sensor that is able to identify all types of plastic – more than 20 kinds. The result of the scan is passed through a computer to the robots, which then knows exactly where on the conveyor that exact piece of plastic is, which they are predefined to pick up and sort out. The robots are programmed to collect two types of plastic each – a total of 12 types of plastic are sorted out and dropped into a chute ending in a container.
Watch a video of the sorting facilities (in Danish):